We love a good scavenger hunt around here! I usually make up scavenger hunts a few times a year. I have been known to have scavenger hunts for the kids for Christmas, 4th of July parties, birthdays...just to name a few. The kids will make up hunts for each other too! Who am I kidding, I have even made them for my husband. Its just what we do. Recently, we started GeoCatching and kind of fell in love with that.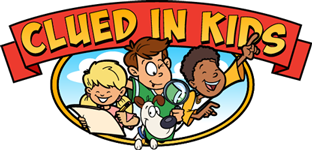 Typically, I will make up the clues myself. If I am not feeling very creative, I will scour the Internet for ideas. So when I heard about
Clued in Kids
and the premade treasure hunts that they provide I was pretty excited.
I was given two different treasure hunts to review:
~
Multiplication Dragons:
This was actually a set of FIVE different hunts. It is intended for kids ages 7 and up. Any child that loves treasure hunts and could use a little refreshing on their multiplication facts would benefit from this one. It covers 2's-6's. It comes as a digital product. All set is sold for $19.99.
~
Baseball Hunt:
This is one hunt. It has a total of 12 baseball themed clues. The clues are centered around baseball but there are some math questions, riddles and mazes included! This hunt is intended for ages 4 and up. The math questions may be a little difficult for younger kids but with the help of older siblings it would work perfect. It sells for $5.99. It is also a digital product.
These hunts were created by a beautiful woman with a heart touching story. She had a lifelong dream to start a company making treasure hunts since she was a child. Her dream came true after some very difficult times in her life.
Her story
will make you love the product even more.
Both of the hunts that I received were digital products. I received an email with the link. Printed out the clues. Then the fun began! They also offer a handful of physical products as well. It is recommended to use the hunts with 1 -10 children. My kids loved doing the hunts together. They didn't really want me to wait too long once we received them to get started so....we kind of devoured them quickly.
Both of our hunts were meant to be used inside. At the bottom of each hunt it tells you were to hide them. Examples...in the dryer, under the couch, in the bathtub.
So what did I think...
These hunts are a lot of fun and they take out the work behind it for me. I love to come up with my own clues but sometimes I am just too busy. (Can I get an amen from all the busy moms out there that still love to have fun with their kids!?) They also offer a wide range of topics. In the future I am looking to buy July 4th Teaching and the Christian Easter hunts. There was not anything about them that I didn't like. It was a great product to review.
Stay in touch with Clued in Kids!