My first review of the year and it is a good one! A great one actually! Are you ready?
We were blessed to receive
In Freedom's Cause
by
Heirloom Audio Productions
. Last year, we reviewed Under Drake's Flag from Heirloom Audio Productions and fell in love with it. So the kids and I were really excited when we were given this opportunity.
We are kind of history buffs around here. We also love audio dramas so when you mix the two together its pretty exciting. Before I get ahead of myself, let me tell you what exactly it is that I reviewed.
In Freedom's Cause Single Package
is a 2 CD set. It is based on the novel by G.A.Henty. If you are not familiar with his stories you should know they are pretty amazing. He was a mighty man of God and an amazing story teller. He was a prolific English novelist who is well known for his exciting stories, strong Christian themes and historical accuracy.
This drama lasts about 2 and 1/2 hours. Along with the CDs I also received an in depth
study guide
,
soundtrack
and a printable copy of
The Prayer of William Wallace
.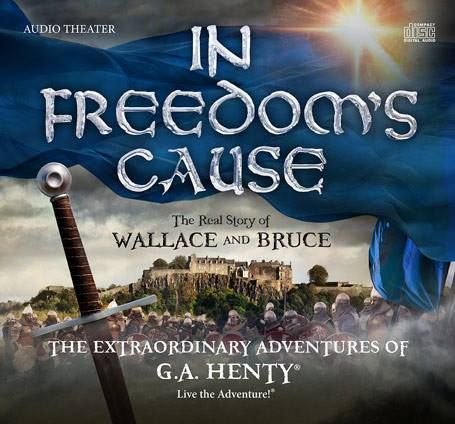 In Freedom's Cause
is the story of William Wallace and King Robert the Bruce. If you are familiar with the movie Braveheart then you already know this story but this is a much better interpretation of the events. Wallace was a man of God. A man with faith and conviction. Courage and strength.
The kids have never seen the movie Braveheart but they do know this story well. We actually had listened to a sermon a few years ago that was about the character of William Wallace. This audio drama brought the story alive to them!
They have listened to it many times. Each time being incredibly engrossed in the story. That's the thing about audio dramas...they are so intriguing. Especially when you are familiar with the some of the voices. This audio drama had a pretty incredible cast. Joann Fraggat (Downton Abbey), Skandar Keynes (Narnia) and lets not forget Billy Boyd (Lord of the Rings). My kids are pretty much over the top about The Lord of the Rings. The only complaint they had was Billy Boyd only had 4 lines. ;)
Here is what they had to say.....
Alyssa ~ This story was very exciting and easy to follow. I love all the Scottish accents!
Morgan ~ I liked it a lot. It was really interesting. We sat and listened to it in one sitting. I liked that Ned and Gerald were in this one. I liked them from Under Drake's Flag.
Carter ~ I liked this story. It was full of adventure and courage!
The study guide was a great addition. After we listened to the story for about the 3rd time we went through the study guide. It is broke up into 3 parts for each chapter of the story....Listening Well, Thinking Further and Defining Words.
Listening Well and Defining Words is exactly what is sounds like.
Thinking Further was my favorite part. It really made the kids THINK! It asks questions like What was the proper way for the boys to show respect for the approaching knight. It also had them look up information in their bible.
I can't end this review without mentioning the quality of this product. Trust me when I say, it is fantastic!