15 minutes for Grammar? Yes, please.
For the last few weeks, I have been reviewing Fix It! Grammar from the
Institute for Excellence in Writing
. Most homeschoolers know IEW well. They are very well known and liked in the homeschooling community. I have had the opportunity to review their amazing products in the past and I was really excited when given this new opportunity.

For this review I was given:
Fix It! Grammar: Robin Hood (Book 2) The Student Book ($15)
Fix It! Grammar: Robin Hood (Book 2) The Teachers Manual. ($19)
Both books are soft cover and spiral bound. There is a total of 33 week long lessons along with 132 vocabulary words. Each lesson should take about 15 minutes a day, 4 days a week. IEW allows the pages of the student book to be copied. Which is a huge deal to me because I have a handful of munchkins not just one or two.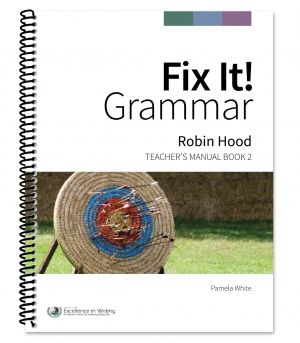 Each book builds on the book before it but there is a
placement test
to determine exactly where to start.
There is a total of 6 books offered in this series:
This series is intended for grades 3 and up.
The concept behind this grammar program is that the child will enjoy reading a sentence or two from a classic tale (in our case, Robin Hood) and the student will use real life sentences instead of a page full of grammar exercises. Their thinking is that is will make it easier for the child to actually edit their own work. The program is very relaxed as it teaches clauses and phrases while reviewing parts of speech and punctuation.
The Teachers Manual is very well laid out. There is nothing worse than a confusing teachers manual. It starts out with an introduction that explains the program and how to use it. After that each lesson is explained over 3-5 pages per lesson. Then toward the end of the book is a Fix It! Grammar glossary that breaks down in detail parts of speech, sentences, clauses and phrases, punctuation, additional rules and concepts and stylistic techniques. I found that to be a great resource! Even I get confused sometimes on grammar rules.
The Student Book starts out with a short introduction that explains to the child how to use the book and what is expected each day. It jumps right into the lessons and each weekly lesson is laid out on 2 pages. The first page is the "Learn It" page and the second page is the work, 4 days worth of sentences to correct. Typically, only 1-3 sentences each day. Very simple and to the point. There is a Certificate of Completion after the lessons and the same Fix It! Grammar glossary in the back of the book.
There are also vocabulary words that are scattered throughout the weekly lessons. These are to be looked up and defined by the child and put in their notebook.
I use the program with Alyssa (9th), Carter (6th) and Morgan (6th). Alyssa is a writer at heart and is pretty much ahead when it comes to her grammar but you can never get too much practice. Carter and Morgan were right on track with where this book starts. So it fit us well. I teach the concept and they do the work. Pretty simple.
So what did we think?
We loved it. The kids loved that it was challenging but simple to complete. They sometimes get overwhelmed with pages of repeated grammar exercises. They knew each day they only had a small amount of work to complete so there was no complaining. They also loved that the sentences were from Robin Hood. Who wouldn't, right?
I loved it because...well, its IEW! Really, it was well laid out. Easy to understand. I could teach the concept and they could do the rest. I didn't have to stand over their shoulders the whole time. That's important to me. It was a solid program and I plan to continue using it.
Stay connected with IEW!
If you are interested in reading other reviews on this wonderful product be sure to click on the banner below.