Recently, I was given the opportunity to review a bible study through
Prasso Ministries
. I love a good bible study. Especially when I can get my kids involved.
I received the
Teen Prasso Ministries Teachers Manual ($35)
and the
Teen Prasso Homework Manual (Journal) ($15)
.
Let me tell you a little bit about the product first.
First off, the set just looks really neat. All my kids wanted the workbook. The cover for each book are the same. You can see from the picture below that it has a neat rustic look to it. Which fits into my own home perfectly!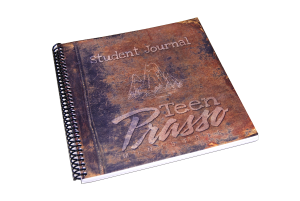 Inside the Teachers Manual starts with a introduction. It explains how to use the material and then goes right into the lessons. There is no prep work. Each lesson is laid out for you. From what bible verses to read to what questions to ask. There are a total of 13 lessons.
~ The Right Beginning
~ The Map
~ The Bridge
~ The Storms
~ The Enemy
~ Testimony
~ The Two Opposing Fears
~ Anger
~ Forgiveness
~ Pride
~ Refocus
~ To continually, habitually, and repeatedly practice God's Word
~ Prasso ~ External Eyeglasses
The Student Journal starts out with a preface explaining the goal of the study. Then it pretty much dives right into the lessons. It is 187 black and white pages.
There is nothing fancy about this program. That is a GOOD thing. It is direct and to the point with enough black and white sketches to be interesting for a teen. It is not confusing or extensive. Like I said to the point. I like that. Each lesson is told around a fictional story of 2 teenage boys, Brandon and Derek. Which keeps it interesting!

Each week we worked through the lessons the same way. On Monday, I read the story and we touched on topics that the teachers manual mentioned. Which usually led to a rabbit trail or two. Which I love. Then each day the kids worked on their daily lesson from the journal. I tried to have time set aside so they were not scrambling trying to get it down or forgetting. I worked through Taylor's journal with her. The other 3 usually worked on theirs at the same time. Which was nice because it kept me available if they had any questions. On Saturday, we sat down together and went over the discussion questions in the end of their journals.
So did we like it? You bet! We loved it! I only received 1 journal so I bought journals for the rest of the kids. That is how much I like it. It is perfect for my teens. Some of the lessons really hit home for them and I can see them growing because of the study. I would definitely recommend it. Although it is intended for a small group setting it can easily be used with any number of children. Even if you don't have a small group like my own. :)