Recently, I was given a product to review that I found quite fascinating. The program is called
Old Western Culture: The Greeks
from
Romans Road Media
. It is one part of a four year study on Old Western Culture: A Christian Approach to the Great Books. The Greeks is a DVD set that includes 16 DVDs, divided into 4 units. It has over 20 hours of instruction. It also includes a workbook and printable teachers manual. It is a full year program intended to be used with grades 9-12. Each unit takes approximately 9 weeks to complete. There is a recommended schedule in the beginning of the workbook. It is expected to spend 1-3 hours a day, 5 days a week on the course. If completed, each year of Old Western Culture is a double-credit for literature and social studies. You can also choose to break up the units and use them as an elective.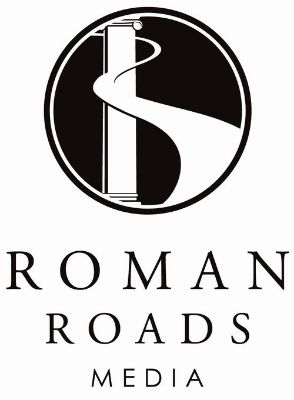 Because this course covers the "Great Books" it is required to get your hands on them. You have 3 options. You can purchase the recommended translations, use a copy you already own (or get from the library) or you can download the ebook version which is not recommended but will do.
Here
is a list of the books needed.
Before I tell you what I thought of this program and how we used it, I want to put a disclaimer on this. The program covers mature topics. Paganism, sexual immorality, nudity and violence are all encountered. Please know this ahead of time and use this program with caution. Only you know what maturity level of your child and what you allow in your home.
As I mentioned, this course is divided into 4 units.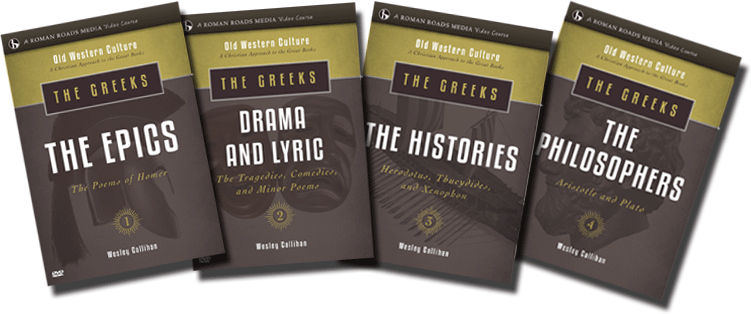 The Epics
: It covers both the The Iliad and The Odyssey. It takes you on a journey through the life of Homer.
Drama and Lyric
: It covers tragedies and comedies of Greek theater using Sophocles, Aeschylus, and Euripides plus other minor poets.
The Histories
: Through Herodotus, Thucydides, and Xenophon we learn about Greek history.
The Philosophers
: It covers the most important works of Plato and Aristotle explaining the influence of these men in the past and today.
Along with each DVD is a "Guide to the Art" booklet. It is filled with beautiful paintings (along with descriptions of each painting) that go along with the unit.
Originally, I got this course for Alyssa (14). After I received it and looked over it, I thought it was a bit much for her. So I enjoyed it myself. I did not follow any schedule. I just listened to the lectures and worked through the lecture questions as I had time. Usually in the evenings after the kids went to bed. That allowed me to be able to concentrate much better. Although once, Alyssa decided to sit down and watch it with me. She found it to be very interesting. I am working on her curriculum for this year. I have not decided yet if I am going to include this or not. The program is definitely geared toward Classical education. I have always steered AWAY from classical education in our home but I actually enjoyed this course. If I do not use it this year with Alyssa, I may add it on next year. I even thought about holding off and going through this course together with her next year.
When I looked at the list of the "Great Books", I was a little intimidated. Okay, a lot intimidated. After watching the very first episode, I no longer felt that way. The instructor, Wes Callihan is an amazing story teller and very easy to listen to. Although I felt like this might even be over my head, it wasn't. Mr. Callihan makes the lecture easy to follow. His passion on this topic is very evident. I read in the workbook that he has 6 children and 6 grandchildren. I can only imagine how they all love to listen to him tell stories.
I started with the first unit, The Epics. To be completely truthful, I was clueless starting this. I have heard the names mentioned but had no understanding of their importance or even just basic information about them. I am sure some of this was covered in high school but I was not interested in much in those days. I find history extremely intriguing now. In the Epics course, I learned so much about the Greek culture, how differently people thought at the time of the great books and the importance in understanding this time period. I really enjoyed learning about Homer, his life and his poems.
Along with the reading, lectures and workbook questions, there is also additional assignments.
~ A term paper that is to be 750-1200 words long. The topic can be anything based on the terms lectures or reading.
~ A final exam. It can be downloaded from their website.
My overall thoughts are that it is a solid, interesting program. I enjoyed Mr. Callihan and his lectures. I think that if you follow a classical education it would fit perfectly into your homeschool. If you do not, you will still find it a valuable resource. It has a christian perspective that I love. I am ok with the violence but I don't really like the nudity. Obviously, it can be a bit distracting. I know that many other homeschool families do not have a problem with it. This program does not have nearly as much as I have seen in other classical programs. So it is really for each family to decide. Now I just need to decide to use it this year or next with Alyssa.
This course can be purchased in two ways through Romans Road Media. You can buy the DVDs or you can use it as a streaming online class. Both can be purchased for $224. Right now, they are having a sale and you can purchase the online course for only $199.
Romans Road Media sells high quality products. The Crew reviewed many different items this review period. Be sure to check out the reviews for this and other products by clicking the banner below.
Want to connect with Romans Road Media...