Welcome to another round of Random 5 on Friday. I hope everyone is having a wonderful 4th of July weekend!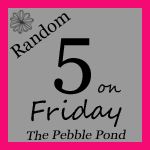 1. We needed rain but now we need some sunshine! It seems to rain every day. I went to get lettuce from my garden yesterday and it was drowning and covered in mud. I believe rain is in the forecast for the next week! The good news, my house is pretty clean considering it is summer because I can't be outside as much as I would like. Cause you know its impossible to have a good garden and a clean house. ;)
2. I'm kind of looking forward to this weekend. Brian was off yesterday, volunteered to work today but is off Saturday, Sunday AND Monday! Our plans....stay HOME. Well kind of. He also wants to go to the lake to go swimming but that might be difficult considering #1. I would like to go for a hike early one morning and then we have church all day Sunday. Hmmmm....maybe we won't be home all that much.
3. I keep putting it off but I really want to start the kids on a good nature study. We love being outside and I really want to document it. Trees, birds....all of it. Any suggestions? We have done nature journals in the past but they always fizzle out. I really want this to be an ongoing project with a little more effort.
4. So it is official. If you have been following my blog or you are one of my TOS friends then you know I am starting up a photo challenge. I am super pumped about it! I am going to start August 1st. You know right at the time when I need to be focusing on a new school year. Ha!
The rules...there aren't any. Well not really. I am going to post a picture (or a few) a day for one year. The pictures are going to be my attempt to capture beauty in the every day, work on my photography skills and blog more. At the bottom of each post I will have a link up if you want to join. The only real rule....Please link to a blog post that contains only your picture(s) of the day. It is fine if you write a little commentary about the picture but not a whole blog post. Lets keep this simple.
I am going to call the project,
Beauty Captured
. Eek...I'm excited. I am working on a button with a cute little graphic. You know, it wouldn't be the same without one! You will not be required to use the button or link back to me though unless you want to. I just want this to be as simple as possible. Please do not feel like you have to use a great camera. I will probably use my phone some of the time. Also, I am no professional so this is all about fun and capturing beauty. I hope you join in!
5. Right now, my toenails are painted red. What about you?
A lone cantaloupe finally decided to join the crowd.
A cute little house wren decided to take over my bird feeder.
Do not let her size fool you, she has a big mouth!
Considering linking up?
Here are the rules. They are simple.
~ Link to your Random 5 on Friday post.
~ Add a link back to me somewhere in your post.
~
Please make sure to put the direct link to your blog post not just your blog
. I like to read and comment on all of you but I can not always do it right away and I do not have time to look for it. Thanks!
~ Visit, Visit, Visit! Have fun encouraging each other. :)